Are you looking for All Season Tyres for your vehicle?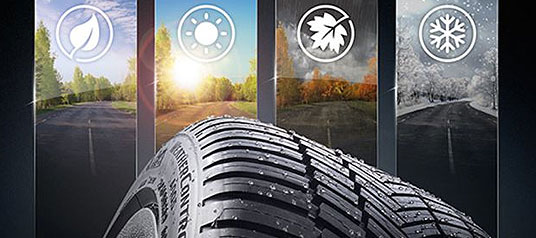 Are you tired of changing your car tyres every passing season?
Fret no more!
All-season tyres are innovatively designed by combining the primary characteristics of summer and winter tyres. As a result, these tyres can perform optimally, irrespective of the weather conditions. In addition, after fitting these models, you do not require changing tyres depending on the weather, thereby reducing your tyre maintenance cost making them cost-effective.
Universal Tyres Harrogate stocks a wide range of all-season tyres of various models and makes and is a trusted destination for anyone looking for all-season tyres Harrogate, having been based in Harrogate for over 20 years. Our expert tyre fitters strive to offer you the highest quality service at a competitive price, and our fully trained team carries out a safe fitting service, so you are back on the road again in no time!
Brands we offer
At Universal Tyres Harrogate, we stock tyres from the leading global brands to ensure that the quality of product offerings is not compromised. The tyres are available in various ranges - premium, medium, and budget.
Continental Tyres
Pirelli Tyres
Nexen Tyres
Avon Tyres
Landsail Tyres
Bridgestone Tyres, and many more!
Our online services
You can now buy all season tyres Harrogate online from our website by following a few simple steps. Just fill in your tyre details or vehicle model in our search toolbar. Then, choose your pick from our extensive inventory and finalize your purchase. Finally, choose a suitable time for getting your tyres fitted at our garage by experts.
What makes all-season tyres Harrogate special
Round-the-year use:
With all-season car tyres, Harrogate installed on your vehicle, and it is ready to roll in any and most weather conditions and ensure maximum stability and fuel economy. These tyres can cover longer distances with their tough rubber compounds and unique tread patterns, which enhance the longevity of these units.
Cost-effective:
All-season tyres can help you save your expenses on regular tyre replacement and fitting services. Note that all-season tyres are not always cheaper than their seasonal counterparts. However, your overall expenses on tyres will come down as these all-season units do a commendable job throughout the year.
Comfortable driving experience:
The all-season units often come with wear protectors, which let you enjoy an amazing handling experience. Besides, these also help to extend the tyre's service life considerably.
Get yours today!
If you need any consultation regarding buying all-season tyres Harrogate, we are always ready to help you!
Give us a call on 01423 500688, or drive down to our facility at Universal Tyres Harrogate,5 Chatsworth Terrace, Harrogate, HG1 5HT